Centrifugal Fans And Blowers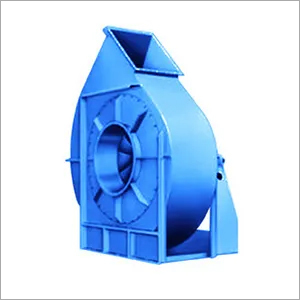 Centrifugal Fans And Blowers
Product Description
Our highly motivated engineers and workforce are committed to meet the expectation of the clients by manufacturing and exporting an excellent range of Centrifugal Fans And Blowers. Fitted with mechanical & semi-mechanical seals, these blowers are used for gas conveying purpose. Our Centrifugal Fans And Blowers are made by a team of skilled professionals using quality materials, following the norms and guidelines laid down by the industry. We are exporting these high quality blowers to various international markets including USA, Canada, UK, Thailand, Malaysia, Indonesia, Nigeria, Zambia and Sudan.
Features:
Energy efficient
Excellent service life
Durable design
Technical details:


(Capacity: Up to 400000 M3/hr., Pressure: Up to 2100 MMWC in single stage)

Static Pressure up to 1800 mmwg in single stage, higher static pressure by multi-staging.
ID / FD Fans
Suitable for positive conveying and negative suction.
Applications :
For most process industries; Cement, Power,
Chemical, Steel & Mining Swam fans are used for :
Ventilation & air circulation
Induced draft & dust collection
Cooling and combustion air
Exhausting or Boosting Gases etc.
Distinctive features :
Wide selection of fans to meet customer process requirements
Heavy duty and rugged design for lasting performance
Smooth vibration free operation
Component post supply customer- support services
Wide choice of materials of construction and sealing systems
Suitable for corrosive, abrassive, hazardous application
Product Specification :
Model

Designation

Nozzle Size (mm)

Capacity (CMH)

Pressure (mmwg)

Vacuum (mmhg)

Suction

Discharge

Min

Max

Min

Max

Max

SWF 200 CHM

200

200

1250

7000

1000

3000

1600

SWF 250 CHM

250

250

2500

12000

1000

3500

2000

SWF 300 CHM

300

300

4000

20000

1000

3500

2000

SWF 400 CHM

400

350

4700

28000

1200

4000

2000

SWF 500 CHM

500

400

9000

35000

1200

4500

2500

SWF 600 CHM

600

500

15000

50000

1500

5000

2500

SWF 750 CHM

750

600

22000

70000

1500

5000

2500