MVR Mechanical Vapour Recompressor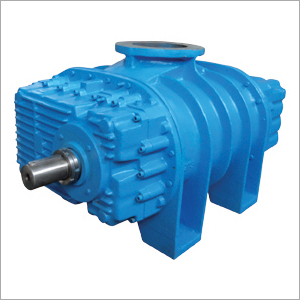 MVR Mechanical Vapour Recompressor
Product Description
MVR Mechanical Vapour Recompressor
The working principle of Tri-lobe blowers is similar to that of twin-lobe type. The rotors, move opposite each other, maintaining fine clearances, in perfect synchronization through a set of precision timing gears. As the rotation proceeds, the trapped gas moves along until it reached the discharge port raising its pressure against the system resistance. The precise clearances within the blower makes possible the rise in pressure with least internal slip loss. The delivered air is pulsating, smooth and has lower sound emission.
Axcel Series Salient Features :
Ruggedly built for working under tough conditions, high load transmission and lower operating speeds.
Computer generated AXCEL Series lobe-profile optimizes volumetric efficiency.
Helical heavy duty timing gears, shrunk fit on rotor shafts improves reliability.
Guaranteed oil free conveyance.
Effective oil lubrication of bearings and gears, at both ends.
Suitable for positive and negative conveying and for top or bottom suction.
Side suction or side discharge arrangement available on select models.
Special sealed models are available for gas conveying and vacuum application.
Provided with pulsation dampers.
Rotating Parts dynamically balanced to finer grades.
Six number of bearings as minimum.
Heavy Duty Shaft.
Special double Acting Metallic Seals.