Rotary Tri Lobe Blower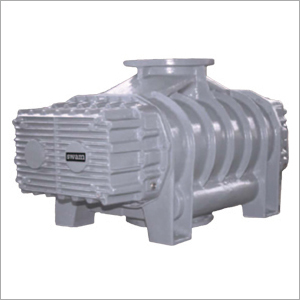 Rotary Tri Lobe Blower
Product Description
Economical and ideal for pneumatic conveying Blending and Fluidizing of powdered or granular materials and aeration of liquids. The flow capacities upto 85,000 M'/Hr and pressures upto 1.1kg/cm2. The blowers for high suction pressures are with mechanical seals and pressurized lubrication and other design change.
Specification :
Capacity upto 85000M3/Hr
Pressure: Upto1.1barg
VAC.-0.5 bar
High Suction Pressure Blowers
The blowers for high suction pressure (H) are mechanically designed for withstanding such pressure and are provided with special seals, forced / external lubrication (L) system, bearing oil temperature and vibration monitoring system.
Process Gas Blowers
The blowers are available in a wide range for handling different types of gases like Hydrogen, Hydrocarbon, Carbon Monoxide, Carbon Dioxide, Methane, Sulphur Dioxide, H2S, Oxygen, Mixed gas, Coke Oven gas. Seal gas, Nitrogen, Helium etc.
The gas blowers are of unique design with different material of construction ranging from Alloy Cast Iron, Cast Steel, Aluminum, Phosphorus, Bronze, Brass etc & with special sealing system.
They have provision for water injection for cooling the suction gas and for removal of dust.
The oil chambers are completely separated from the compression chambers through air space open to atmosphere.
The compression chamber is sealed through gland pack or mechanical seal(M).
Large capacity blowers are provided with integral inbuilt pulsation dampner at discharge.
Steam injector or purging facility is also provided depending upon application.